The Leader in No Tie Shoelace Solutions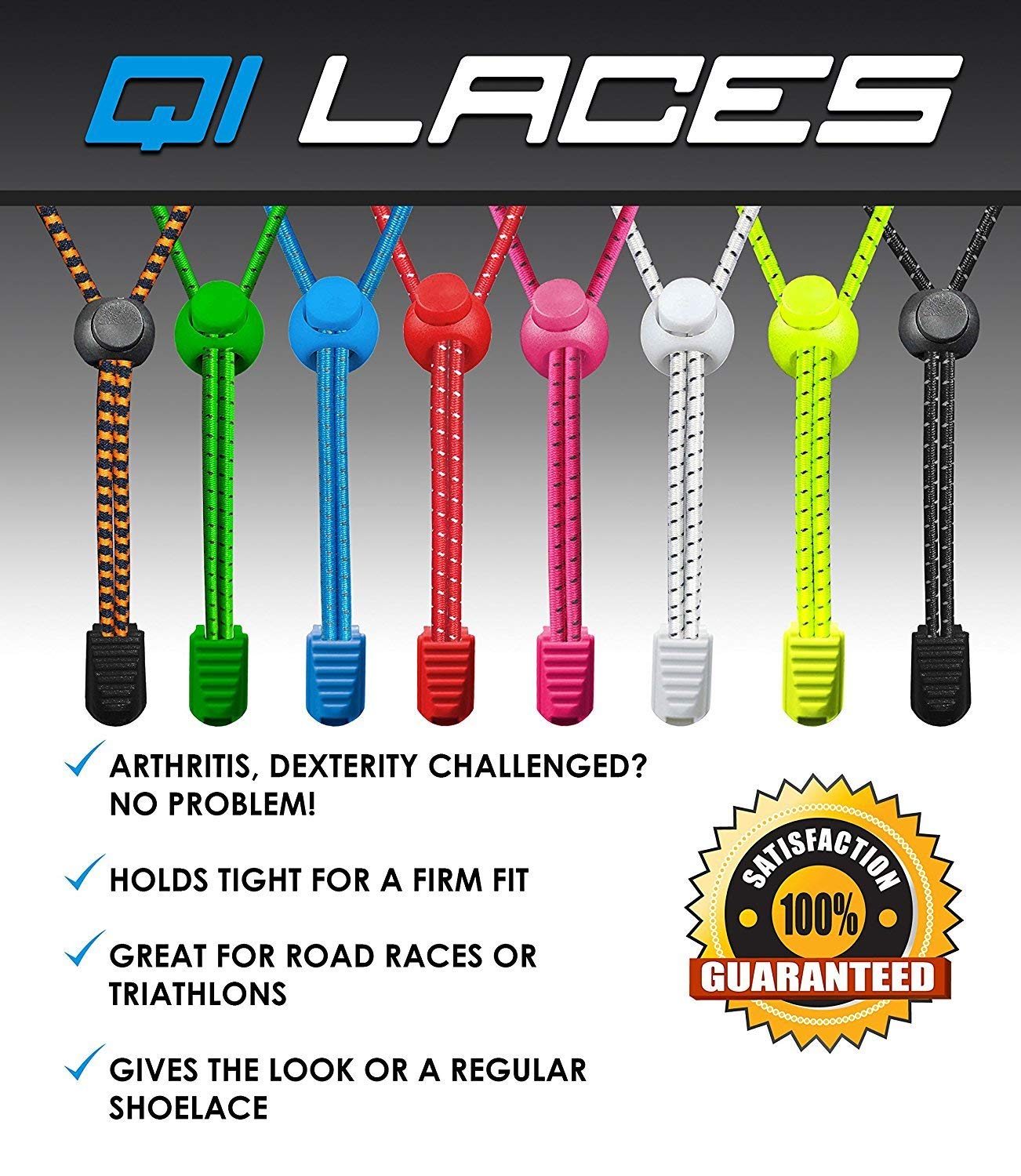 Elastic No Tie Shoelaces for Kids & Adults
Qi Laces Are The Ultimate Replacement For All Types Of Shoe Fastening.
Our fastening system has been engineered and designed for total ease of use. Our laces lock in place. Just squeeze, pull and go and our locking system keeps your shoelaces locked and secure whether you're running a race, working out or just hanging out. Our locking system is a one button device. Qi Laces require a one-time sizing and fitting. Just lace your sneakers or shoes following the easy step by step instructions. The Qi Lace package includes Laces that are 48 inches in length but stretch to 60″, one spring loaded locking device and two end clips to secure the laces after they are trimmed. Perfect for walking, jogging, races and practically any outdoors activities. Qi Laces are great for children, teens, male & female of all ages, seniors and individuals with special needs.
Elastic Silicone No Tie Shoelaces
Perfect for all ages, young or old. Kicks Silicone Shoelace Replacement is easy-to-use, comfortable and adds style to any shoe or sneaker! They come in many different colors and in 2 sizes for both adult and children. The stretchy rubber string lacing system attach easily.
MAKES ANY SNEAKER A COMFY SLIP-ON. Great for Kids & Adults. Stretch laces make any sneaker the ultimate, comfortable sneaker, taking shoe laces to a whole new level of ease and comfort.

MANY COLORFUL FASHION CHOICES for women, men & teens including black, red, yellow, green, blue, white, pink & orange color. Best choice in sports fan shop shoe laces.

ARTHRITIS, DEXTERITY CHALLENGED, SPECIAL NEEDS & SENIORS? …NO PROBLEM. These are especially perfect for you and all people who have a hard time tying their laces.

GREAT FOR ALL ATHLETIC ACTIVITIES, INDOORS OR OUTDOORS. Used for sneakers, board shoes, sandals, casual shoes and so on. Runners, cyclists, hikers and all athletes enjoy them especially for the quick, unique slip-on feature also great for those who are just lazy.

WATERPROOF, PREMIUM NON-SLIP flat rubber strings replace laces quick & easy. Made of high quality environmental safe material, non-toxic & tasteless. Backed by the Qi Tribe 100% Money Back Guarantee.
Contact Us
Qi Tribe is committed to providing each customer with the highest standard of customer service. Please use the form on the right if you have any inquiries or concerns.
Address:
1910 E Palm Ave Suite 11207
Tampa, Fl 33605
Contact Number: